Environmental education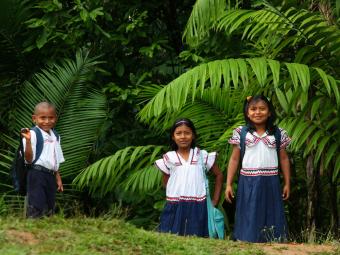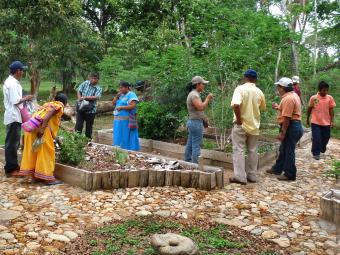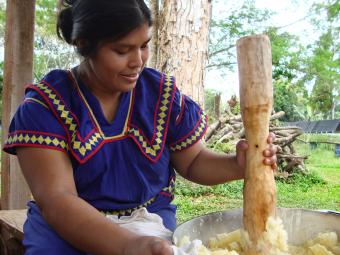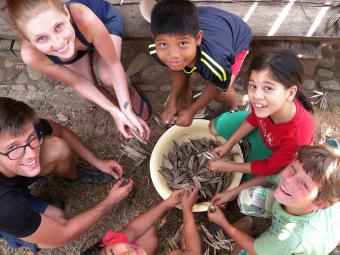 Show garden
Similar to a plant ark, we collect and grow a jumble of fruit trees and vegetables in the show garden. All species or cultivars are native to or have long growing traditions in Central America.
In our medicinal garden the plants are grouped thematically by the symptoms they can be used for, like heart and circulatory problems, etc..
All the plants come from farmers in the region and the indigenous people in the mountains. They're happy to pass on their knowledge of each plant's care, use and processing on to us. We continue to spread it, together with the seeds and seedlings produced in our educational garden.
Seminars
The association lo tuyo e.V. offers seminars concerning themes like healthy diets, the protection of species and sustainable land use in Panama.
Workshops with children are meant to show the next generation the fascinating (and delicious!) diversity of native useful plants.
The seminars take place in the show garden and the seminar house. Volunteers and local handcrafters built the houses on stilts with native woods out of certified reforested plots nearby.
Seminar dates

- April 26, 2014: Ecologically minded agriculture, watering systems and protection from erosion (Hojier Carrera)
- June 28, 2014: Soil protection (Hojier Carrera)
- August 24, 2014: Seeds (Hojier Carrera)
- December 1, 2014: Sowing, harvesting and the moon (Hojier Carrera)
- May 24, 2015: Fruit tree nursery I (Hojier Carrera)
- August 9, 2015: Fruit tree nursery II (Hojier Carrera)

- April 10, 2016: Harvests: Quality control and marketing (Hojier Carrera)
- July 3, 2016: Donation of seedlings from our tree nursery
- July 24, 2016: Grafting fruit trees (Hojier Carrera)
Have a look at our short videos on this homepage.
"The students loved the visit and gave a lot of positive feedback! It was completely relevant to the objectives of the course. We were all amazed at the progress achieved since the start of the project. Many thanks. We wish lo tuyo a long life and successful development."
Guillaume D., Canada